Welcome to our weekly feature "Know Your Birdies" where every Friday a question is posed and you get to know us through our answers. This week we've asked… and answered: What is your favorite Halloween candy?
I think people are generally in one of two groups – people who prefer fruity candy and people who love chocolatey goodness. Two guesses which I am. But I don't limit my affection to just chocolate. All of my life, I have been a big fan of the combo of chocolate and peanut butter. I think the addition of peanut butter is really because I am my father's daughter. (Hey Dad!) So, it's safe to say my pick is the classic Reese's Peanut Butter Cups, in any size. That's right, I'm not prejudice towards cup size. In recent years, the creation of the Peanut Butter M&M's has me swooning, but don't replace those with Reese's Pieces… those Pieces are complete crap. Okay, maybe this is more than you wanted from me in this candy answer. Sorry guys, I'm just keeping it real.
I have an out of control sweet tooth. I would just as soon eat gummy worms as I would cereal for a meal. I love all kinds of candy. I love gummy bears/worms, Sour Patch Kids, Twix, Almond Joy, Butterfinger (in no particular order.) In fact writing this made me go raid our Halloween candy. Nothing like four candy bars before nine am… So back the question, my favorite candy is Snickers. I once made the mistake of buying a Milky Way instead of a Snickers for a flight and got onto the plane and actually cried. That was soul crushing disappointment. Much like it will be for me when my kids are old enough to inventory their Halloween stash and stealing their Snickers will no longer be acceptable.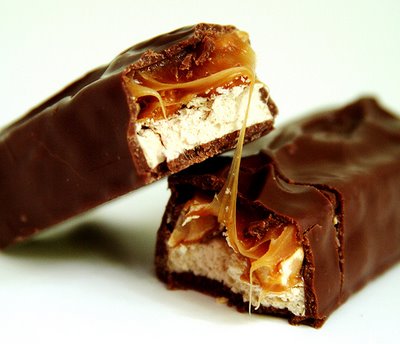 Do you remember Nutrageous bars? You can't find them anywhere except online anymore. Boo! I loved the combo of chocolate, PB, peanuts and caramel. They were the best. My more recent replacement after Nutrageous went missing a few years back is the Take 5 bar- chocolate, pretzels, caramel, PB, and peanuts. I guess you could say I like my candy bars with an air of complexity. Nah. Honestly, I like most everything. Still love my childhood faves Kit Kat and Crunch bars. I even dabble in sugary snacks with a love for Hot Tamales, Nerds, and Jawbreakers. Can you really go wrong with any candy? Wait…black licorice. That's the worst.
What about you? Which candy do you devour first on Halloween night? Or maybe now, as an adult, before the trick-or-treaters even grace your doorstep?
7 Responses to 'Know Your Birdies: Halloween Candy'
Leave a Reply